Colleagues, family mourn the loss of Ottawa firefighter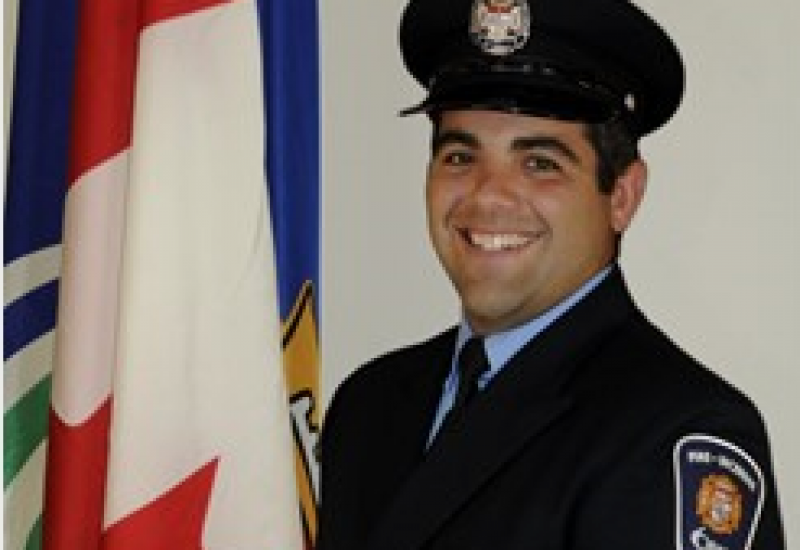 January 2022 is the second annual firefighter cancer awareness month, and members of Ottawa Fire Services are mourning the recent loss of one of their own to the disease.
First Class Ottawa Firefighter Ryan Hill, a member of Ottawa Fire Services for 10 years, passed away on Dec. 20. Hill had celebrated his 37th birthday the day before at the Civic Hospital, where he died surrounded by loved ones.
Hill worked at Station 31 for eight years before being transferred to Station 13, Platoon A, where he is remembered by colleagues for his service, dedication and friendship, according to his obituary.
Hill was diagnosed with brain cancer on Dec. 28, 2020, nearly a year before his death.
Fellow firefighter, Martin Herdé, worked alongside Hill for many years. He remembers Hill as both a friend and as his personal hero.
"He was proud of his job," says Herdé. "He was proud to be a dad. He was proud to be a husband. He would give anything for his family. And also on the job, too."
Hill was a father to two four-year-old twin boys, and husband to his wife Patricia, who Herdé says was "the love of his life."
Herdé says Hill was the kind of person who was always making people laugh.
"He always had a little smirk," says Herdé. "His grin was always greeting and he always joked around and laughed, and then when it's time to serious, he got serious."
Hill had a big sweet tooth, according to Herdé, who recalls his friend's fondness of ice cream.
"He loved ice cream," says Herdé. "And it's a big tradition for the fire department to have a coffee mug of ice cream—not a bowl or anything, but a coffee mug. And he would never have a coffee mug, he'd just take a spoonful. And then he'd take a walk around the station, slowly eating his ice cream. He'd always say, ''I'm just regulating how much ice cream I'm eating.' And then by the end of the day, I'd see like 10 spoons in the sink."
Even in the hospital, as he endured five surgeries and numerous rounds of radiation therapy, Hill was able to find joy in the small things. Herdé says Hill always had a chocolate stash, and he favoured Mr. Big bars.
Hill was a fan of 90s grunge music, which he and Herdé would often listen to while working out. He was also an avid fan of the Toronto Maple Leafs, and a sports player himself.
"He used to put his grunge music on in the gym, and he'd be running like a fiend," says Herdé. "And we'd be working out and I would always make fun of his music. He was a horrific hockey player, but he was always the first guy to bring beer in the dressing room… A hundred per cent, giving [his] all on the ice and off the ice."
Herdé says Hill will be honoured along with his fellow fallen firefighters in an annual memorial service in September.
Cancer deaths among firefighters are not rare occurrences. In fact, according to a 2018 study published by the Injury Research and Prevention Unit at the University of British Columbia, cancer deaths in Canadian firefighters represent 86 per cent of all occupational deaths in the industry, making it the leading cause of death for firefighters.
In 2017, a study from the University of Ottawa found that firefighters absorb harmful chemicals through their skin. Researchers collected skin and urine samples from career firefighters, and found they contained three to five times more than the average amount of nuclear pollutants, called "PAH metabolites."
Herdé, who has been a firefighter for 23 years and has worked for Ottawa Fire Services for 19, says he has lost many colleagues to cancers and other occupational dangers in the past.
"We see more deaths than most people around," says Herdé. "And even though it's been a long time, I'm a strong believer that they're never forgotten."
Hill's family has set up an online tribute page in his memory, and they are asking anyone who would like to lend their support to make a donation to the Ottawa Firefighters Support Fund (Ottawa Retired Firefighters Association), or to Team Morgan, a charity supporting children's cancer research.
Listen to the CHUO interview with Martin Herdé below: 
https://www.ottawafirefighters.org/wp-content/uploads/2019/05/logo.png
318
312
Agnes Admin
https://www.ottawafirefighters.org/wp-content/uploads/2023/09/logo.png
Agnes Admin
2022-01-10 13:43:23
2022-01-10 13:44:50
Colleagues, family mourn the loss of Ottawa firefighter