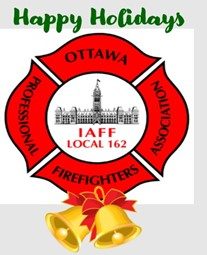 As we near the end of 2021, members of our Ottawa Professional Fire Fighters' Association family can hold their heads up high.  Like many I was hopeful we were turning the corner on this pandemic, but it has circled back with this new or latest variant. Despite this all of you have remained strong, you have endured, and you remained professional. I couldn't be prouder of being part of an Association that remained on the frontlines providing dedicated service to the citizens of Ottawa. Never looking for recognition, never hesitating in response to emergencies, always adaptable and vigilant in a crisis not seen in over 100 years!
While we may not be able to congregate and celebrate this holiday season like we all had planned. We certainly can take solace in all the accomplishments and our irrepressible commitment to always overcome the challenges we face. I know it has been stressful and remind those in our membership to take time to decompress and rejuvenate themselves. Enjoy time with family, friends, and loved ones when you can. Thank you for all that you do and thank for you being part of our OPFFA Local 162 family!
On behalf of myself and our Executive Board and our staff, I would like to extend our best wishes to you and your families. Hope that you will have an enjoyable Christmas!
To those on duty this holiday season, thank you, and stay safe.
In solidarity,
Doug McLennan
President
https://www.ottawafirefighters.org/wp-content/uploads/2019/05/logo.png
318
312
Agnes Admin
/wp-content/uploads/2019/05/logo.png
Agnes Admin
2021-12-24 10:12:33
2021-12-24 10:12:33
Holiday Message